"We've done business with J&J for some 30 years, and I wouldn't even think about changing. They're very competitive and their prices are good. We buy mostly steel end sections for drainage products and some coupling bands. It's all very good quality, and when the products arrive they're in good shape. The salesmen are very, very good. When I call in an order or ask for a price quote, they take care of it as quickly as possible."
Bubba Johnson
Plant Manager
Hanson Pipe & Precast
UP TO STANDARDS
All J&J product materials are certified and meet standards set by the American Association of State Highway and Transportation Officials (AASHTO) and the American Society for Testing and Materials (ASTM). Our materials also meet criteria of the Buy American Act.
"J&J gives good service ... they're honest and their integrity is the highest. They're very, very reliable ... people you like to do business with and spend the day with. And that doesn't happen very often. We're long-time customers — 25-30 years — and buy their standard flared end sections. It's a good product, and the staff is very knowledgeable about the products. I've never had a problem."
Jan Haaland
General Manager
Johnston Fargo Culvert
OUR "TRUMPF" CARD
Our Trumpf machine, custom-designed for J&J, offers one of the largest platforms on any cutting machine in North America, and gives you uncompromising precision and uniform fit time and time again.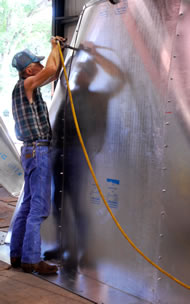 Standard Flared End Sections
J&J Drainage Products Co.® offers the widest, most complete selection of end sections in North America.
Our standard flared end sections are not only long-lasting and easy to maintain, they are up to standards – made from certified materials meeting AASHTO and ASTM standards ... meeting Buy American Act criteria ... and federal and state highway agency requirements for safety and hydraulic efficiency.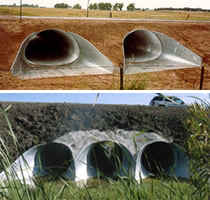 Application:
Corrugated steel pipe
Corrugated and smooth plastic pipe
Concrete pipe
Material:
Galvanized steel ... the industry standard
Aluminized steel ... an aluminum alloy coating on steel ... with a lifespan of more than 100 years, exceeding most Department of Transportation standards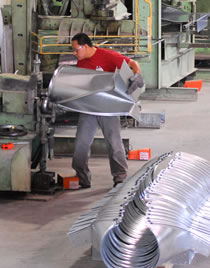 Size:
J&J is the only company offering 6-, 8- and 10-inch end sections!
Slope:
Round: 1.5:1 to 2.5:1
Arched: 1.5:1 to 2.5:1
See complete information on Standard Flared End Sections
End sections for round and arched pipe (pdf)
Federal Highway Administration end sections for round and arched pipe (pdf)
End sections for HDPE pipe (pdf)
End Section Connectors
Type 2 short rods
Side D-lugs
Full-circle rods with silo lugs
Toe plate extensions
Indiana anchors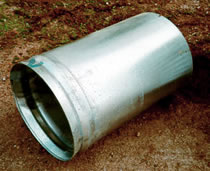 Accessories
A smooth tapered sleeve, available in galvanized and aluminized steel, can be used to connect concrete and plastic pipe to a metal end section. One end of the sleeve wedges snugly into the pipe, and the other attaches to the end section using connectors. The sleeve ensures a consistent flow-line connection.
Sleeve detail (pdf)
Trash guards provide protection against debris for your end sections. They can be attached to any standard end section. Standard thickness is .079" and heavy duty is available in .365."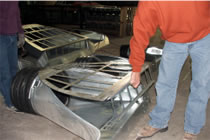 Optional products that can be attached to any end section include a toe plate extension, Indiana toe plate extension and dimpled adaptor band.
See toe plate extension detail (pdf)
Now read about our culvert accessories and hardware.
Benefits:
Efficient design


The flare shape increases hydraulic efficiency at the inlets end,
reducing the entrance loss coefficients for corrugated pipe or pipe arch from 0.9 to 0.5.

Easy attachment


End sections can be attached using only standard wrenches.

Long life


End section materials – galvanized and aluminized steel and aluminum – give our products a long life span. And by using rods or straps and bolts, end sections can be salvaged if the culvert is moved, replaced or lengthened.

Attractive appearance


Matching the fill slopes, the end section "finishes" the appearance of the culvert and keeps grass, weeds and debris from the culvert opening. It also increases flow characteristics, preventing scouring and undercutting.

Easy maintenance


Mower blades and sickle bars pass harmlessly over the end section that is installed flush with the slope. During snow removal there are no hidden obstructions to slow the job or damage the culvert or maintenance equipment.

Cost effective


Our installed standard flared end sections (in galvanized and aluminized steel or aluminum) are less costly than plastic and concrete end sections or headwalls.

Uniform fit


Our custom-designed, computerized Trumpf machine ensures an accurate, precision fit time and time again.

Call today and inquire about the largest selection of end sections in North America.
Back to top
Any questions?

Call
800-331-7465
or Contact Us!

J&J DRAINAGE PRODUCTS CO.
Office: 620.663.1575
Toll Free: 1.800.331.7465
Fax: 620.663.1701
110 N. Pershing
P.O. Box 829, Hutchinson, Kansas 67504-0829